The design of Slap City
August 3rd, 2018

Hi, I'm the animator and co-designer of Slap City, and today I want to talk about the ideas and philosophies that go into making the game.

Slap City is mainly designed to be fun and silly, but it should preferably also hold up when played competitively, even if not to the degree that serious competitive-only games do. Like most of our games, we're only six people developing it, so we stick to this whimsical and self-indulgent approach to the art style and characters and hope that others will like them as well.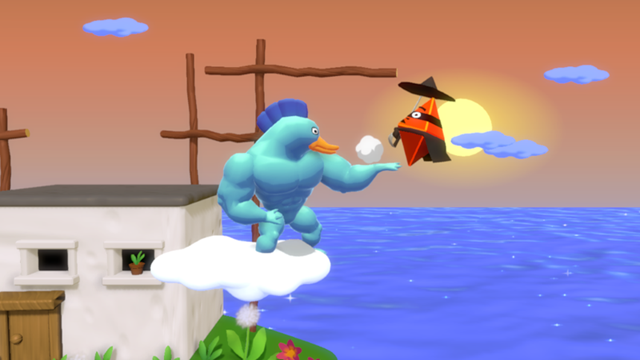 The heart of Slap City is the fluid character movement. Any ground move can be performed while standing, walking, running or turning, and instead of the "L cancelling" from the first two Smash Bros. games, we have Dash cancelling which gives your character a burst of directional speed if you press the Block button while landing. Meanwhile the Clutch button can instantly reverse the facing and momentum of certain moves, as well as doing a bunch of other things that help the player perform most "analog" inputs with a digital controller or a keyboard. Like the individual tricks that each character has, the idea is that the more options the player has, the more exciting it can get, but they shouldn't need to use all of them (and newcomers should be able to have fun without discovering them).
Our main focus is to make new content for the game, and we're currently working on the new single-player Story mode where you'll learn more about the characters and their silly adventures. But we also look at tournaments and discussions and try to tweak the balance of the characters when we have the time. Here are my personal guidelines:
-Buff weak or underused moves so they become useful.
-Chaingrabs and moves that combo easily and infinitely into themselves are no fun. These are "nerfed to make the game buffer", as project lead Elias puts it. If there's an infinite somewhere, we just missed it.
-After the patch that nerfed Ultra Fishbunjin in ten different ways at once (I'm sorry!), and that time I messed up Jenny Fox's axes and skateboard (I'm sorry!) I try to only nerf one move per character per patch at most, while buffs are free. Sometimes we may still feel the need to change multiple things at once, but if the change isn't well received, we try to come up with something better.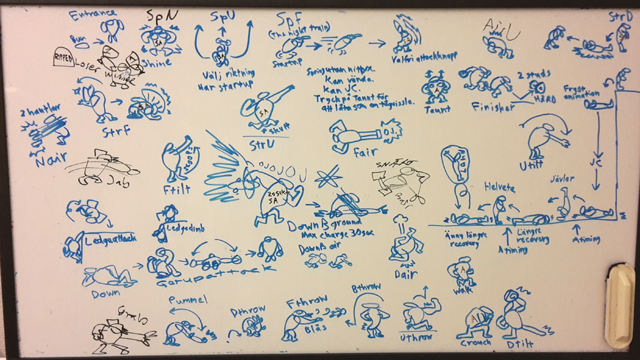 Our design process for each character is to draw all the moves on a whiteboard until we get tired, and then keep going anyway, at which point you get things like Fishbunjin's "trust fall" triple Down strong, and the Goddess of Explosions breathing fire or punching bouncing projectiles around. It wouldn't be Ludosity if the game wasn't ridiculous.
We have plans to turn the Free-For-All mode into something where points are scored by doing all sorts of things besides KO's, including some form of items or modifiers you can earn mid-match. So please stay tuned for that.
When it comes to the "Library", previously known as the "Gallery", there's a lot we'd like to put there in the future. The player is meant to unlock additional pages by finding secrets in the upcoming Story mode – some with silly lore about the world and its characters, and some with information on hidden moves and other tricks. I also want to hold off on updating the little video tutorials until the characters have stabilized more.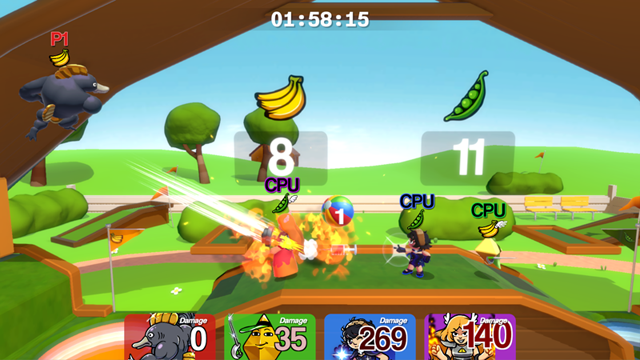 Oh yeah, the stages! We try to have a mix of wild and competitive stages, and since the standard Slapball stage is very basic, future Slapball stages may get even crazier than Soccer field and Golf. It's no fun if KO's or Slapball goals depend too much on stage hazards, of course, but variety is always nice. And if you haven't tried it yet, there's a different Smack the Crystals stage for each difficulty level which can be independently selected in the single player menu.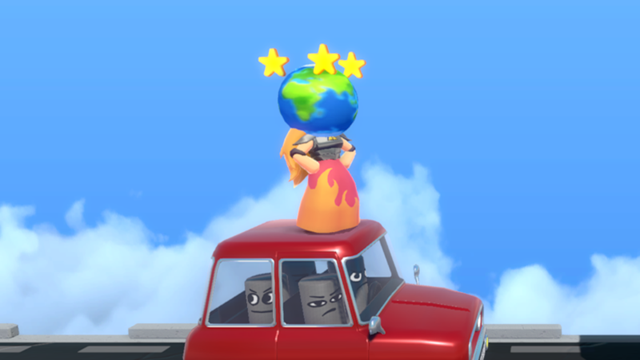 Please continue to enjoy Slap City! 🙂
Card City Nights 2 – Devblog #2
July 12th, 2017
The Art of Card City Nights 2
Hello everyone! It's me, Regnslöja, one of Ludosity's two artists here to tell you about Card City Nights 2.
Just like in CCN1, I've drawn all the characters and most of the cards while leaving backgrounds to my co-artist Nils. I don't have the patience for big scenes like that.
The style we went for here was basically "like CCN1, but cleaner and better", so I hope those who liked the first game will feel at home. If you haven't played CCN1 in a while, maybe you wouldn't even notice the difference, but here we see Jenny Bun and Ittle Dew in both games, and I think you can tell it's changed a bit.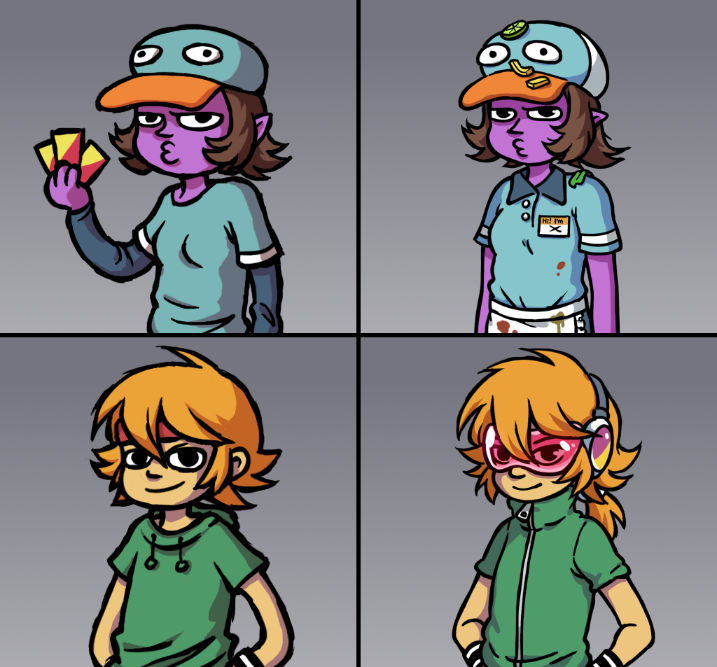 Just like in CCN1 and Princess Remedy, me and Daniel (star designer and writer here in Ludo City) work kind of separately with characters, which I think is an interesting dynamic allowing us both to be creative. We basically decided on the characters that would appear in the game, and some basics about the character. Then I just went through the list and drew them while Daniel wrote the campaign. This desync can lead to interesting results. For example, I drew Navigator (Green Crystal) as very flirty, giving her expressions like ;P and a kissy face.
And then Daniel goes and writes her as married.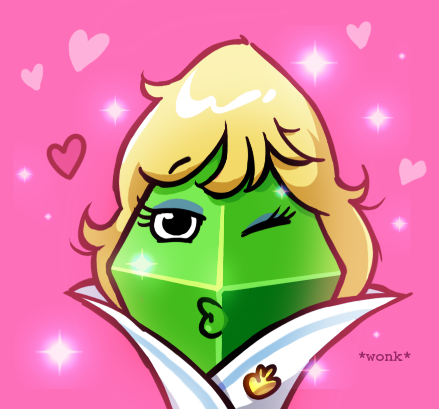 The few cards that reuse the art from CCN1 have been touched up to fit in better with the new ones. However, consistent style isn't as important with the cards, and there are cards drawn by Nils (notably Bird, just like he did in CCN1, but many others too) and Daniel (Hype Snake for example).
By the way, did you know that we brought back cards in the upcoming Ittle Dew 2+ thingy on Switch?
In CCN1, we really had to scramble for cards to the point where some cards were the geometric shape enemies from Daniel's old game Castle of Elite, haha. This time around, it's the opposite! With Ittle Dew 2, two Princess Remedy games and Psycard… the amount of characters in the Ludoverse have increased dramatically!
So now we have more than we need, really. Not even close to all the Remedy characters have cards yet (my beloved Pancake Master is missing), and not even all of Ittle Dew 2 either. Psycard has a surprising amount of cards for a mostly unknown game, but that's because they were so easy to make – just take the portrait straight from the game. Since we needed a lot of cards quickly, "ease of making" did play part in what cards got in for release. Like "Crossover Adventure" below, the art is just a promo picture we already had.
Rest assured that we'll be adding a bunch of cards in patches after release, just like we did with the first one, except this time there's online multiplayer so it's even more fun to get new cards!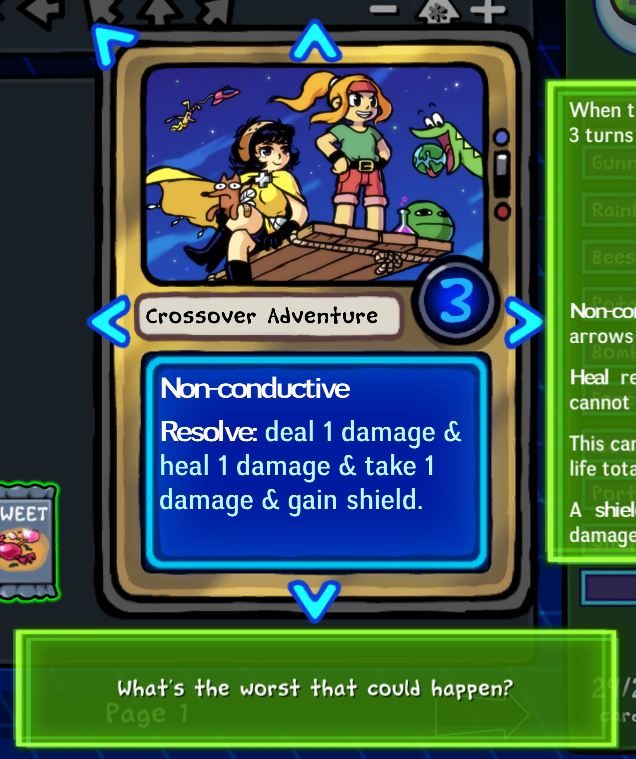 As usual, we had a lot of fun making this game. I love designing alternate versions of our characters! Will YOU recognize them all?? Probably not, as some are too obscure – like Rulle or the musical group that only appears on a tiny poster in ID2.
I'm looking forward to seeing all of your Let's Plays after release 😀
-Anton (@regnsloja)
Card City Nights 2 – Devblog #1
June 16th, 2017
The Making Of A Sequel
The original Card City Nights started out as a fun side project, but turned into one of our most beloved games. It has such a great atmosphere, stellar soundtrack, and a core game mechanic that's very different from most traditional TCG's. It also plays very differently in that it's more of a light Adventure/RPG where you travel the city, meet weird people and adventure through a story line. Only instead of RPG-styled battles, everyone is crazy about playing cards.
This time around we're thinking things through a bit more, and knew from the start some of the things we wanted to add and improve upon. The big one is multiplayer, which was the number one requested feature with the first game. We're also addressing some flaws in the original game design and among other things have merged the two boards into one, competitive playing field.
Card City Nights 2 features two hundred cards with all your favourite (and probably some of your least favourite) characters from games by Ludosity, all with their unique mechanics to bring out the most of possible strategies.
At the same time we are definitely keeping some things – the atmosphere, the adventuring, and making sure the soundtrack is at least as good as the first one. In the coming devlogs we'll make deep dives into each of these areas, so stay tuned!
The development of Card City Nights 2 has so far been a blast for everyone at the studio and we are super excited for the game to be released! Giving the players a multiplayer feature is sure to bring out the best and worst in you, and we are looking forward to see some of your favourite strategies and fantastic plays!
As of writing this, we're right between beta round #1 and round #2 – with the first round we invited only the 100 first signups, and with the upcoming round we'll open up for a lot more. We already fixed a lot of things, and can't wait to hear what y'all think of beta #2!
Card City Nights 2 is kooky, quirky, has a stellar soundtrack and a very interesting and unique card battling mechanic that makes it stand out from other TCG's. With an all new adventure set in a space station this time, much improved UI and an all-new online mode, we think you're going to love the game when it releases September 1st!
And remember, it's always night in space.
Announcing PsyCard!
March 30th, 2016

Today we'd like to announce a brand new little game, PsyCard!
A cozy cyberpunk minesweeper-like game for iOS and Android, coming soon!

Anton's comments


If you're an avid follower of all things Ludosity, you may remember a game prototype vote a while back. This is the result of that vote. We looked at the result of that, and based on other factors like the downtime we had and who on the team had said downtime, we decided to make the 3rd placer (out of 11) into a full-blown game. It was PsyCard, the versus minesweeper-like! Of course, this doesn't mean we'll never make any of the other prototypes. They're all still ideas from various people at Ludosity, people who would like to see these games get made some day. But for now, the convenient choice was to make PsyCard.

Before I get into the development stuff, let me explain the rules of PsyCard.

PsyCard is a two player game, played with 8×4 cards (for standard rules at least) placed face down on a table. The players take turns picking cards to flip over. The contents of the opponents cards are always hidden (unless super powers are involved).

5 of these cards are "Fruit Cards", 2 of them are "Star Cards" and 3 of them are "Skull Cards".
Finding 3 fruits makes you win the round.
Drawing a skull makes you lose the round.
The stars add points if you win the round with them.
When a round is over, the cards are reset and a new round begins. This continues until one player reaches the score limit and wins the whole match.

The trick to the game is that when you draw an "empty" card, you get some psychic hints about what the cards around the empty card contains. Kind of like those numbers in Minesweeper, you know. And using these hints, and your characters special powers, you must find the good cards and avoid skulls to win.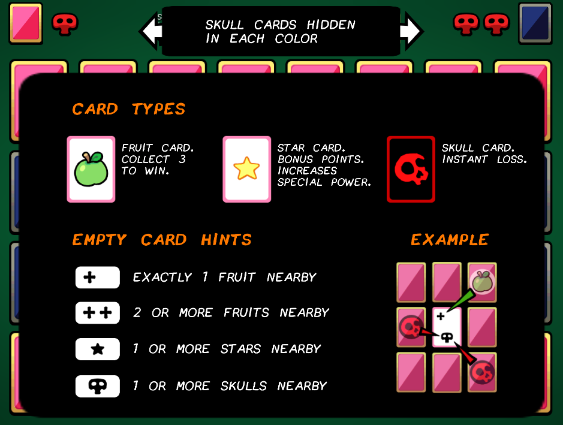 I am to blame for most of the things in PsyCard – the gameplay design, the character art, the writing (lol!), the card match programming. Basically everything except for backgrounds and music (scroll down for more on those topics). I also made the original prototype. The initial idea was to make something interesting based on the popular game Minesweeper, but with something of an "anime" twist – super powers etc. The gameplay was pretty much set from the start, but the art had a really bumpy ride even before the prototype was started! Check this out: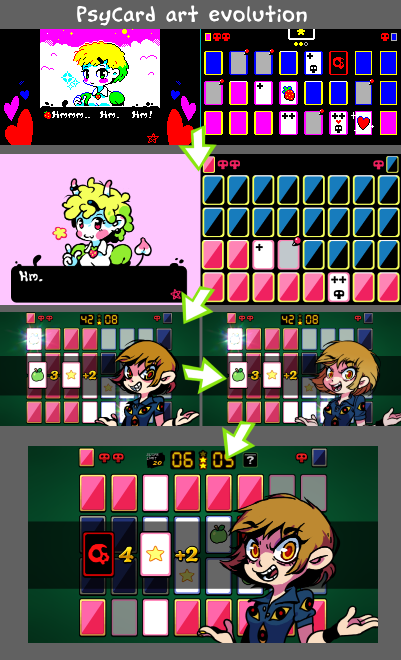 One of the things I wanted in this game was for the opponent to be more "there" during the match than in for example our Card City Nights. So I made these kind of cut-in frames that pop in to let the opponent react to things like thinking they'll win on their next move, or fearing the lack of safe cards to draw. I also show the full character portrait with some particles and stuff when the characters use their best special power.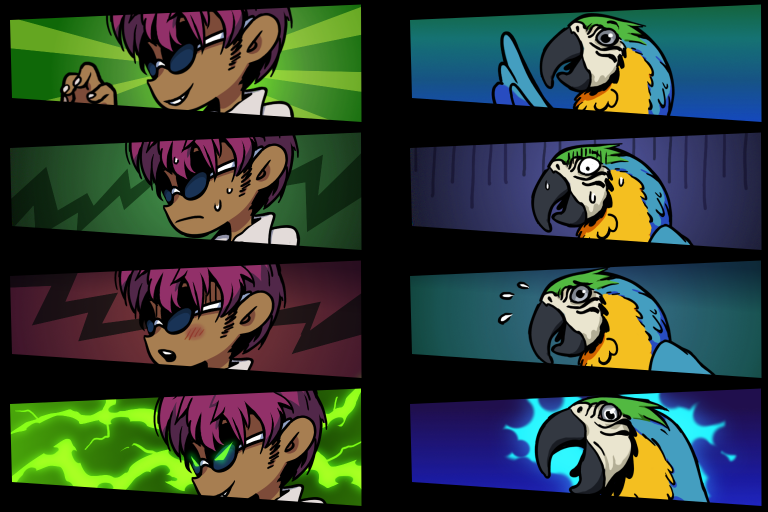 As for the story… I tried! Since our resident awesome writer/designer Daniel Remar was busy with fine tuning Ittle Dew 2 (he did draw 3 bonus characters for PsyCard though and help test the game), I wrote this game and that's really all there is to say on the matter.
Basically it's a dystopian cyberpunk setting, but that doesn't seem to bother anyone in the game. It's just the world they live in, and they want to goof around and play this popular psychic card game.
The main characters that you choose from are a bunch of freeloaders that mooch of their mutual friend who got rich from being in some kind of accident. Then they go out to play cards and meet a bunch of weirdos while doing so, the end.
Honestly, when we put up the poll for those prototypes I had already discarded PsyCard as a dead idea but threw it into the ring anyway. I expected it to place super low, but somehow it didn't. So I reluctantly tried to rekindle my feelings for the project and get things going. In the end, I think it turned out to be a fine mobile game for picking up and playing in short bursts.
Now let's hear from some other people who worked on the game!
Nils' comments (Background art)
When I started making the main story's background art I only had a few character portraits to go on, it's a nice thing to have free reins. As the main story had a setup similar to our earlier game Card City Nights with static backgrounds behind Antons character portraits, the heavily outlined cartoon style from CCN's backgrounds felt appropriate to make a return. However, the mood of the characters where far less bright and wacky in PsyCard. This would reflect on the world as well. Not a lot of details where nailed down early on more than the idea of a darker future setting. To fit the cartoonish nature of Antons drawings, I started thinking back to the cyberpunk infused comic books I used to bury my nose in as a lad (The nerd store the characters visit in PsyCards campaign is heavily inspired by the store I read a lot of those comics in). I went heavier on the dark lines and mood, and easier on the anachronisms and wacky imagery that fills CCN. I wanted a bit of the feeling of those old comics and decided to use a limited color palette for the backgrounds. They also inspired me to segment the coloring; grouping objects together with the same color. To tie the world together, I tried to keep a theme of snow and winter in the areas. As if the city is isolated in a world of ice.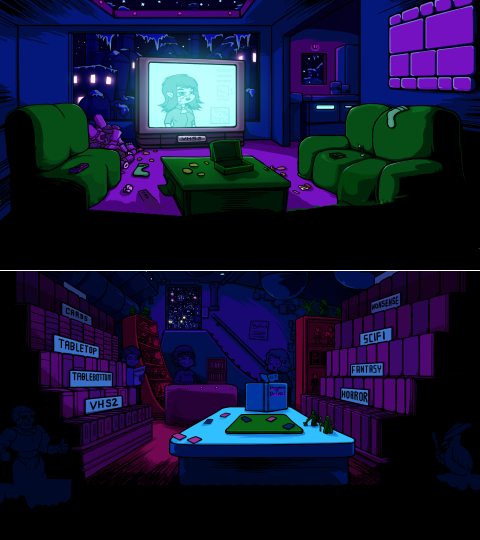 Mattias' comments (Music)
The short musical themes made for the story were heavily inspired by the random animés I just happened to be watching around the same time. Tracks like these almost overemphasizes the mood of a scene or the character it's bound to and does so very quickly.
The music used for the battles are all dance electronica tracks with old school sounds, from basic synths to single sample instruments and breakbeats common around the 90s.
Check out some of the awesome song over att Mattias' SoundCloud!
Ittle Dew 2 devblog: Slow news day
August 29th, 2014

Hello there, scores of rabid Ittle fans swarming our offices and staring through the windows. Daniel here to say something vague about Ittle Dew 2 again!

What's going on?

At the moment, only me (designer) and Anton (artist) are working on the game at all, mostly planning and making the graphical content. Stefan (programmer) becomes available for some small coding work now and then, but most of the time we have to make do with the functionality we have. Therefore, progress is pretty slow.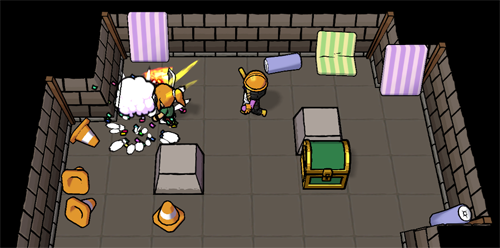 What's done so far?
The game's design has been mostly laid out down to the finer details, but a lot might change as development progresses. As far as actual development goes – as opposed to me just drawing dungeons and puzzles – we have a player running around various work-in-progress areas and smacking enemies, an enemy scripting system and level editor by Stefan, and some neat room transitions.
What's the plan?
As the rest of the team are tied up with other projects for a few months more, the game will continue stumbling along, maybe picking up a few lines of code here and there. We don't even have a deadline on deciding a deadline yet, but hey – here's a Fishbun with legs.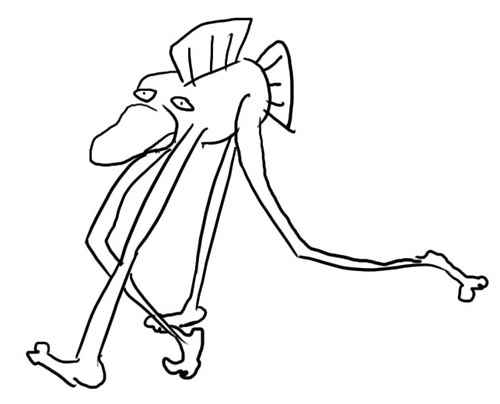 Ittle Dew 2 devblog: Design
June 7th, 2014

Hello, diehard Ludosity fans who spend most of your time walking about our offices asking for autographs. In this post I'll explain the game's direction and overall design. If you've played the original Ittle Dew, you may or may not be glad to hear that things will be a bit different this time around.

Ittle Dew 1: so many puzzles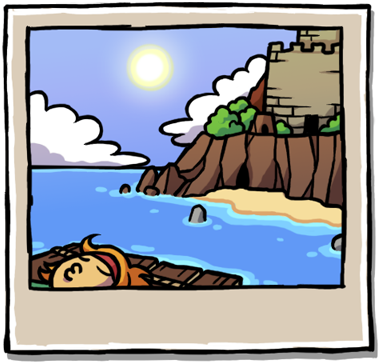 The original game was centered on The Castle, and the three items you could purchase from Itan Carver in any order. To beat the game, you needed two of the three items, but most players obtained all three before facing the final boss. The overworld was more of an afterthought – to be honest, the entire game besides The Castle was an afterthought, being designed during the game's production.
The focus on puzzles meant that designing the dungeons, in particular The Castle, took a really long time. Players could also get stuck on puzzles that were required for progress, and it wasn't always obvious whether you could solve a particular puzzle with your current items or not – some players thought that getting the items in certain orders was impossible, since the shortcuts could be rather sneaky.
The combat was also not the focus of the game, with simple enemies and virtually no penalty for death.
Ittle Dew 2: opening it up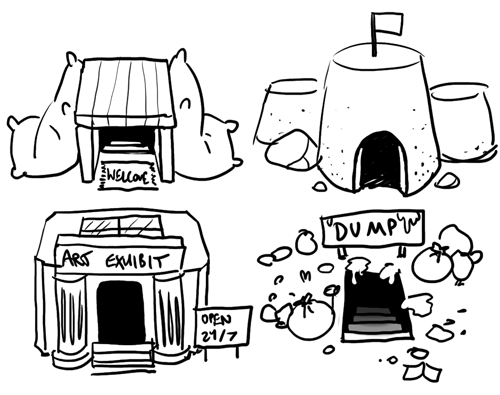 Ittle 2 takes place on an overworld divided into eight progressively harder areas, each of which holds a dungeon. The dungeons can be tackled in whatever order you find them, except for the final one. In case the player doesn't want to explore the world themselves, completing a dungeon will reveal the location of the next recommended one on the overworld map.
The warp garden is a place located in the center of the overworld. Finding a warp on the overworld will link it to the warp garden, so backtracking is never much of an issue. Warps are located near dungeons and other important places.
There are four "active items", mapped to four different buttons, so there's no need to switch out your gear. The remaining equipment is passive, and can be inspected on the pause screen. Finding another copy of an item you already have will instead upgrade it, making it more powerful or granting it new abilities. Everything Ittle finds is immediately useful for either combat, exploration, or both. Additional copies of the items you'll find in the dungeons can be also found in secret locations on the overworld, and some shortcuts in the dungeons require items from later dungeons.
Speaking of, Ittle 2 has a bigger focus on exploration and combat. The puzzles are still a big part of the game, and will still get pretty tough, but they won't be in each and every room anymore.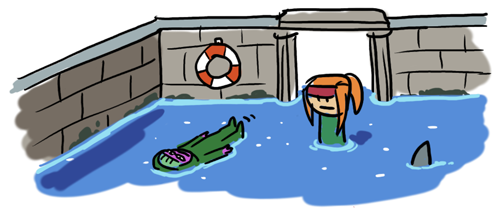 Making the player feel fairly treated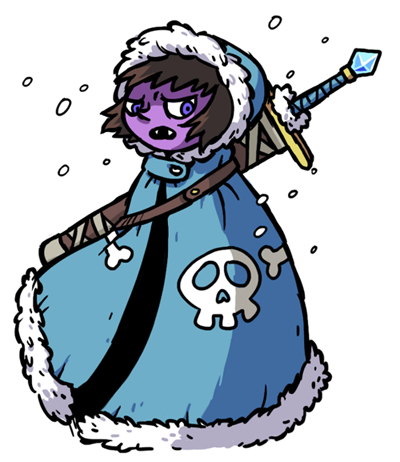 Every secret on the overworld can be found using only the starting Stick, so you won't be wandering past obvious metaphorical keyholes, having to remember their locations while looking for the metaphorical key. That's not to say that finding the secrets will be easy – discovering how the world works is part of the game.
If the enemies beat you up, you'll keep all your progress but wake up at the entrance to the current dungeon, or the latest warp you went through. You'll be opening up shortcuts and mini-warps in the process though, and dungeons are designed to avoid dead-ends. Once you enter a dungeon, you can solve it with everything you already have or what is found inside.
There's also a pause menu option to instantly return you to the start of the dungeon (or the latest warp) while refilling your health, since it's essentially the same thing as intentionally walking into enemies to run out of health and respawn there. Beside each warp and dungeon entrance is also a gadget that refills your health to maximum, for the same reason.
While there are some humorous cutscenes, mostly involving the bosses, there are no "mini-cutscenes" interrupting the regular gameplay. If you find a chest, you simple whack it into debris in one swing and collect the contents while a small explanatory popup appears. Control is never taken from the player during this time, nor while solving puzzles or opening doors. You can also skip cutscenes or turn them off completely.
The most interesting details about how the game world works are written on secret signs in the dungeons. The signs are not that well hidden, but if you discover something like this by yourself, rather than being told about it in some sort of tutorial, you'll be more likely to read and remember it.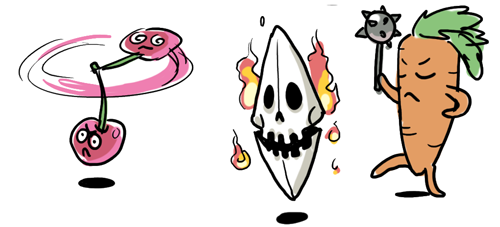 You should have some sort of conclusion or closing comment here.
You're probably right.
Ittle Dew 2 devblog: 2D to 3D
May 31st, 2014

Hello, Ittle Dew main artist here. Let's talk about the move to 3D for a bit.

There's a lot of great celshaded games recently (Guilty Gear Xrd, Jojo All Star Battle to name a few) that look amazing.
Celshading has always intrigued me – one of my favorite games of all time is Jet Set Radio, one of the first celshaded games i believe, a game that still looks so good. So when we discusssed Ittle Dew 2 being made in 3D, I saw this as a really fun challenge. Ittle Dew had a very particular style, with heavy black outlines and a wobbly style of animation (that wobbly style was actually selected because it makes animating so much easier! hah). We had previously experimented with Ittles style in 3D, with a dungeon crawler idea, and it had looked pretty good. However, in that test I used a lot of "billboards"(flat "sprite" objects that always look at the camera, think of the barrels in DOOM or items in Minecraft), while Ittle 2 went on to be a lot more "real" 3D.

Picture of said dungeon crawler: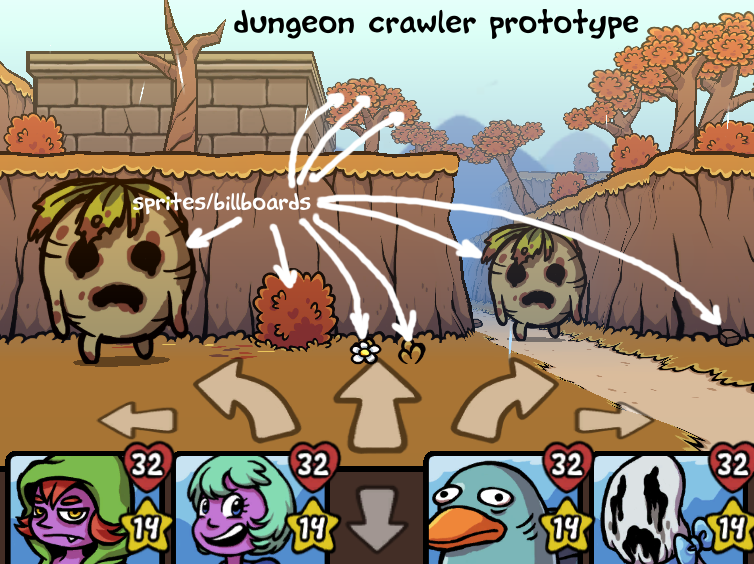 (The Card City Nights faces are just placeholder, since it's just a little prototype)
The first thing we did was have one of our wizard programmers make something do we could have wobbly outlines even in 3D, since by now we felt that was a big part of the Ittle Dew style. But just like in Ittle Dew it will only be used on things that are alive or interactive, kinda. To make them stand out. Using it on everything all the time would probably be really annoying to look at.
Here's the process of a recently created enemy, Safety Jenny, with wobbly outlines:
(Animation is work in progress)
The outlines on both characters and props are not automatically created by an outline shader or such.
I find that to get decent looking outlines you need to create them manually so you can tweak problematic areas by hand.
There's not much more to say about the surroundings, but let's look at a picture.
The most important thing is to not lose too much of Ittle Dew's charm when moving to 3D, and I dare say it's going fairly well.
Having a (mostly) fixed camera helps a lot here!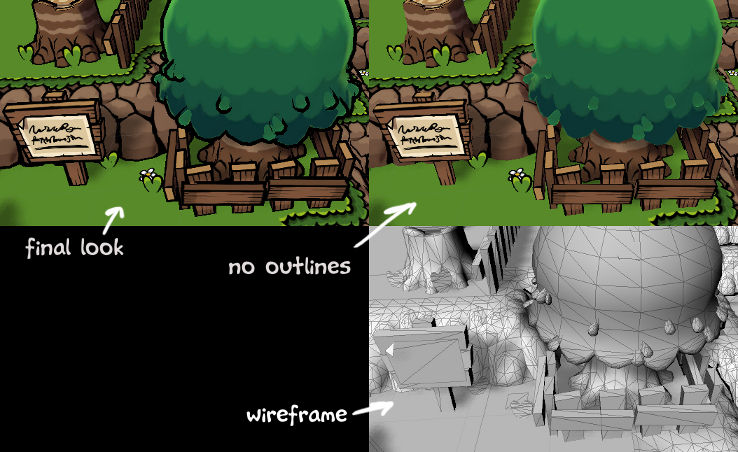 And that's pretty much it for me. Not a lot of informative text, but a bunch of pictures at least!
Ittle Dew 2 devblog: Shaders for beginners
May 17th, 2014

Hello everyone! Today we will learn how to make lava, and also how to make water.
"But this is blasphemy!" you say. "Only gods may do such things." While that is a fact, sometimes you have to take the good with the evil.
Lava
We start off examining the basic ingredients of molten lava: A greyscale noise and a gradient map. Something like this perhaps:
Now if we just applied that map to the noise we would get a nice boring static lava-like thing, which wouldn't do at all. It needs to move. Also I don't know if you've ever seen lava, but it's thick like the slime of a slug and moves faster in the center of a stream than it does close to the edges. We can solve this problem by having the above noise move in a certain direction with a certain speed, and having a different noise texture move in the same direction with a different speed (and don't cheat by using the same noise texture; you'll get artifacts and then cry when they happen to overlap). We then blend these two textures based on how close to the center they are (preferably using another texture to determine blend the factor). Now we have a noise that moves at different rates, and this is what we want to apply the gradient map to. With a really simple blend texture, it will look a little something like this: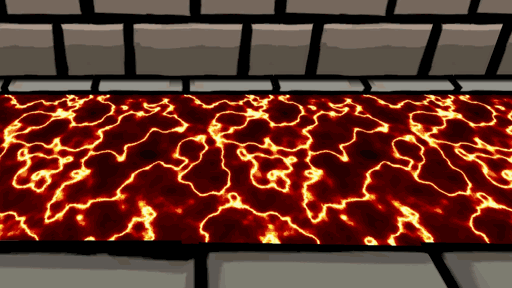 Water
Making water is a bit more complicated deal, but it starts with two parts. A big old plane mesh with lots of subdivisions, for waves; and everything else that's going to be affected by these waves. The waves are fairly straightforward; just move them up and down in a vertex program based on some sine function. However you will want to make sure whatever position-based arguments to pass are based on the world-position of the vertices, because we will have to recreate this function in the wave-affected objects later. For convenience, let's say our wave function is
sin(P.x + t*2π)
where P is our vertex' world position and t is the time offset of the waves. We apply this function to the vertices of the plane mesh and we obviously get waves moving in the x-direction only. That's fine for now, but the advanced reader would want to do something about that.
Anyway, now that we have waves, we switch to the other objects. We want to create foam or something at the intersection with the wave mesh. To do this, we first use the same function to calculate the current wave height in their vertex programs, then use this to create a gradient from 1 at the wave height, to 0 at a certain height above the wave height. For extra fancy, apply a noise to this gradient, using the gradient value as a threshold. Maybe move the noise around for a more dynamic look.
Sadly we are not finished yet. It may look okay at this point, but we also want whatever it is to look a bit wet after the waves have rolled by, and also for this wetness to slowly creep down towards the water. We can't simply use the wave function for this because that will make the wetness move in a sine wave, which looks terrible. We need a function that moves up with the wave function, but goes down linearly, until it goes up with the next wave, and so on. How to do that? Well it's pretty simple, just make a sawtooth function with the same period as the wave function, offset it in height and phase so the top coincides with the top of the wave function and tweak the slope to your liking. Using the above wave function, our "wetness" function could look something like this:
1 – frac((P.x + t) – 0.25) * x
where x is the slope multiplier value.
Then just take the maximum of these two functions to get the current height of the wetness. Use the resulting value to shade the fragments below darker.
Go all that? You should now be able to make something like this: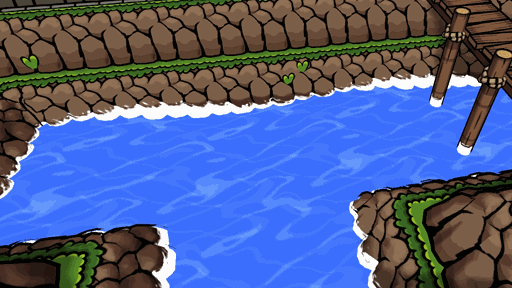 The Earth is counting on you!! Good luck!
Ittle Dew 2 devblog: Dynamic Score
May 10th, 2014

The music in Ittle Dew was generally positively received, but didn't really stand out. We did have a pretty cool system for fading between different instrumentations of the same theme on the overworld, but that's nothing new – I first remember hearing that in Diddy Kong Racing on the Nintendo 64.

Ittle Dew was Mattias' first score – normally he's on coding duties – but I think he did a very good job, especially with so little experience. For Card City Nights he really came into his own with a score much closer to his (and mine) tastes, and a strong theme that went through the entire game. All locations have a jazz song as base, and the combat in each zone is a hiphop remix of respective jazz song. This came out great and we got loads of praise for the CCN soundtrack. It's actually selling a little bit on it's own in iTunes and Spotify =)

So for Ittle Dew 2 we want to step it up again and do something new and fresh. And not just find a fresh genre, but to do music in a new way. Reconsider the use of music in a game at a more basic level.

This a first, very rough prototype of what we initially came up with. We simply put the musical elements on objects in the world, and let them play only as they enter the current view of the screen.

[unity src="2545″]

Steer with WASD. Start by going up, and then go left until you get to the blue area.

The squares represent different elements of a spooky forest; Trees, Frogs, Stars, Flowers and Plants. See the screenshot below for an idea of what it could look like ingame: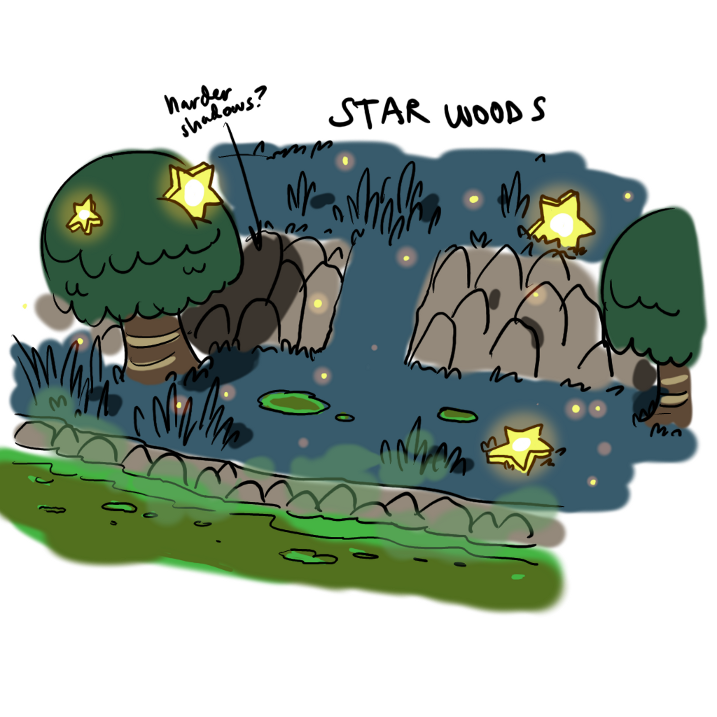 We didn't spend more than a couple of hours on this prototype, but hopefully it'll come out great in the actual game. As the different elements play they should probably animate a little. We'll also try putting the music on enemies instead of level elements, or both. Lot's of experimentation left to do!
Muri dev blog, part 4
December 5th, 2013

It's the last part of the Muri dev blog! Oh my!

Story
The plot and setting were inspired mostly by Doom and Sin & Punishment, though it's not as over-the-top as the latter. Since each person the player meets only gets a few minutes of screentime, it's hard to establish them as characters, and as a side-effect they all get portrayed in a pretty negative light… on the other hand, the story is about strife anyway, so it might just fit.
I wanted it to be possible to take the story as both serious and/or cheesy, depending on what you want to get out of it. One tester managed to be immersed at least, but I think it's a mindset you need to have when going into any media with a dramatic setting. Heck, I liked the bizarre and creepy story in Doom, eventhough most people I've talked to didn't even know it had one, and Doom is hardly a game I take seriously.
I didn't want reading the story to be mandatory, so you can skip the cutscenes and still enjoy the game. Of course, the reason you're fighting the weirder bosses won't be clear, but if you're not interested in the story it shouldn't matter anyway.
While I made Iji previously, which has a lot of modifiers depending on what the player does, Muri only has one alternate way out of a specific bossfight which doesn't change the episodes that come after it. It wouldn't really fit this kind of game to be more complex than that, I think.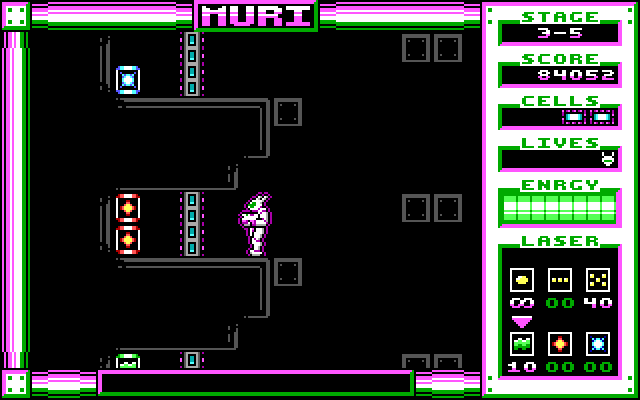 Vertical problems
One of the biggest challenges in level design was the fact that the player can only see a short distance vertically, so platforms, spikes and enemies had to be placed carefully. Though the player can safely bounce on enemies' heads, making it more fair when falling into unknown places from above, I just avoided putting enemies in unknown areas below the player in the first place.
The small screen size also made it hard to let the player know what a boss on the other side of a big room is doing. One enemy that is part of a boss encounter was designed to rush the player from a distance, but since this was hard to anticipate when the enemy was off-screen, I lowered its speed by a lot. The boss was hard enough as it was, anyway.
Teaching the player
Although the game only needs a few buttons to play, I have to tell the player the controls somehow when they're playing with a keyboard. I didn't want to show the controls on-screen like more modern games, instead prompting them to "PRESS F1 FOR HELP" which explains the controls, and if you flip the pages, the most basic parts of the rest of the game.
The testers never looked up the help screen aside from curiosity, as they immediately found at least one set of the buttons that perform the game's only two actions (jumping and shooting): Control and Alt, Z and X, Numpad Ins and Numpad Del, and a few more. Y is also mapped to Z due to these being swapped on German keyboards. I decided against the user remapping the Z/X keys, since it wasn't necessary given that Control and Alt are in the same place regardless of your keyboard layout, and rarely "block" the arrow keys when used in conjunction like other keys do.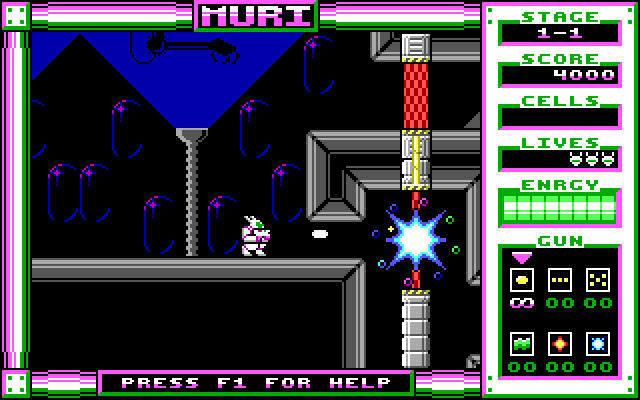 In the first level, the player is dropped into a small room with a barrier guarding the exit. A nearby generator (obvious reference to Hero Core) needs to be shot while ducking, lowering the barrier. The player must then keep the jump button held to jump higher and reach the ledge above, and with this they have discovered the basics of the game by themselves. Jumping on enemies is usually discovered in stage two, where enemies are clinging to a wall at the bottom of a thin vertical shaft. The player inevitably bounces on the enemies on the way down.
The game could've clearly communicated everything about how to play it through text and icons, but this being a DOS-like game, I didn't want to overdo it. I prefer when games don't underestimate the player or waste their time, too (though I've made some long-winded tutorials in the past).
Well, that's it for the Muri dev blog. I hope you'll like the game! 🙂