As some of you might know, Ludosity Interactive has teamed up with Daniel Remar of Iji and Hero Core fame, to bring Garden Gnome Carnage to new platforms, starting with Flash.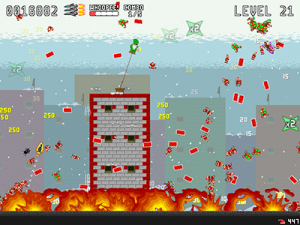 Me and Daniel go back since we first met at uni 4-5 years ago, and we have worked on several games together. We entered Yoyo-Games winter competition with Garden Gnome Carnage and won 2'nd place! (Beaten by Frozzd by Jesse, who I later made Shoot Stop Lollipop with)
Now we have brought Daniel into our offices to build GGC for flash and it's already progressed really well! Hopefully we'll have some vids for you up soon. It's super fun to work on these fun, small titles, and we hope that it'll hit the interwebs very soon and blow your minds =)
Stay tuned!
/Joel