On porting and meeting expectations
March 10th, 2016

After announcing Ittle Dew 2 for PC, Playstation 4 and Xbox One, many have been happy the sequel is finally coming, but some have also expressed their disappointment in how it's not announced for their favorite platforms.

Going back to the first Ittle Dew, we put it out on Steam (3 OS's), DRM-free on Windows, OSX and Linux (across a handful of dist. partners such as GOG and Humble), iOS, Android, Ouya and WiiU. That's a lot of platforms for such a small team as ours – we're only 6 people after all. For each platform there's a certain amount of added overhead such as implementing their special frameworks, certification, and especially maintaining updates. Even after release, it's not always a straight-forward experience to put out a patch, someties it's as much work as the initial certification. We were definitely spread too thin with so many platforms, so after assessing the launch of Ittle Dew we said to never again support so many platforms with one game.

Now for the sequel, when we looked at which platforms we wanted to support we decided based on two things – how "nice" it is to develop for (regarding devkits, SDK's, Unity support, publishing process etc) and install-base/potential sales numbers, and decided on these three platforms.

We realize that if you for example bought the game on Wii U you would like the sequel on the same platform – it's very understandable. However it's also a bit discouraging for us to see our posts and announcements filled with comments of what it isn't instead of what it is, when we're only trying to make the best game possible and hopefully make our investment back. I'm also personally surprised to see so many requesting it for mobile – we honestly didn't think those ports held the same level of quality as the others, plus they had inherent input problems. They also didn't sell enough copies, so the decision to cut out mobile this time was easy.

There is a small chance that we'll still put Ittle Dew 2 on more platforms than the announced ones, but we're only exploring possibilities at this point.

XOXO
Joel
Ittle Dew 2 is being published by Nicalis!
March 9th, 2016

Today Ludosity can proudly announce that we're partnering with the esteemed publisher Nicalis to bring Ittle Dew 2 to Steam, Playstation 4 and Xbox One!

Nicalis is well known for releasing top quality indie titles such as Cave Story and Binding of Isaac. We're super thrilled to add Ittle Dew 2 to that list and look forward to working with a bunch of awesome people! Well, I say look forward, but of course we've already been working with them for some time behind the scenes now, we just haven't announced anything yet! That's apparently a thing, where you have a marketing plan that you execute, and not just release everything you have as soon as you have it. I don't know, something about maximizing value or something. Glad they're handling that part now, maybe this time we'll sell a bunch of copies too!

Here, have a trailer


We'll be showcasing Ittle Dew 2 during GDC'16, so if you're in San Francisco next week, come to or around Moscone center and I'll hook you up! I'm also available for interviews, just let me know!

/Joel
A whole bunch of prototypes! Help us choose
December 19th, 2015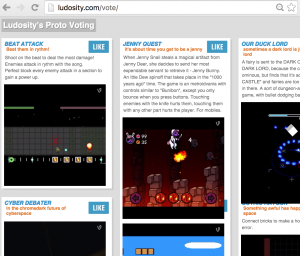 We have made a lot of cool prototypes and there just ain't enough time to finish them all! So we have collected a few (11 to be exact) and put them all up for public scrutiny!
Launching today is ludosity.com/vote where you can watch vines, read descriptions, and vote on which prototypes you like! We'll collect these likes over the holidays now and keep an eye on the feedback we get.
The site randomizes the order the games are shown in to make it as fair as possible. You can vote on all of the games or just one.
Hope you like them! =) See you after the holidays again.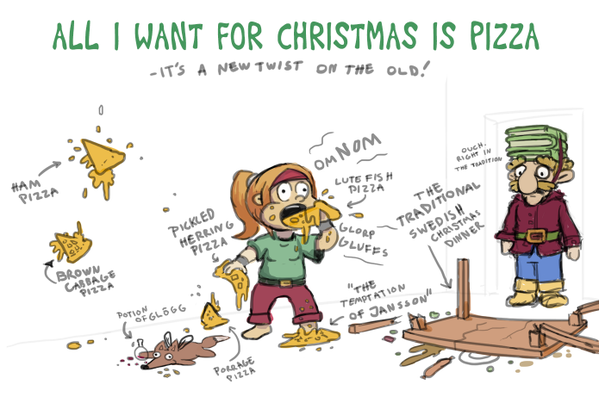 Progress out now!
November 5th, 2015

It's been 17 months since we started out trying to make the most simplistic game we could possibly do, and now it's finally out.

Download Progress on App Store

Progress is 100 silly, bouncy puzzles for your phone or tablet. It looks something like this: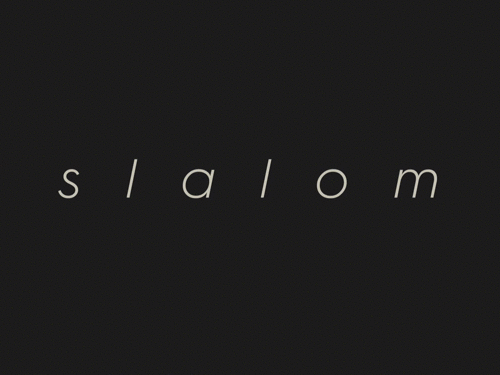 And you might look a little like this: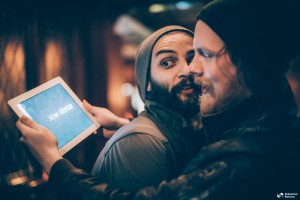 Or like this:
More over at www.progressto100.com
Quest Forge for NES out now!
September 6th, 2015

This is pretty amazing – we made an NES game! And it's actually on sale! Boxed cartridges!

Quest Forge by Order of Kings is an Action Adventure RPG where you play as Sir Nils, knight of the castle Axvald – and the king needs your help. The world orb has been stolen and the demon gate can now be opened. By the orders of the king, you have to stop whoever is plotting to unleash evil on these lands.

-Explore the world, from the bottom of the sea to the top of the mountains.
-Defeat enemies with a combat system that combines timing and statistics based rpg combat.
-Search for the eight magical artifacts that will enhance Nils' abilities.

Quest Forge was largely developed by Mattias Hakulinen (@dothaku) with graphics by Nils Härgestam (@ProfessorSteamg). It is published by Piko Interactive and is sold on their online store, with selected retail distribution to come!

There are two editions, standard and a numbered limited edition. They both look pretty badass, but my favorite is the limited in black.
Ittle Dew 2 gameplay trailer, Pre-PAX showcasing, Xbox One!
August 27th, 2015

You read the title, so let's jump right in with our new gameplay trailer for Ittle Dew 2!

We're at Microsoft's Pre-PAX event today and will be showcasing Ittle Dew 2 there all day, and then over the weekend I will be a walking, mobile demo booth over at PAX Prime with a Surface strapped to my chest. Come by and play to your hearts content!

Finally we are today announcing that Ittle Dew 2 will be on Xbox One! It's running beautifully smooth on the actual hardware already, and we're super excited to let people play this version for the very first time today! =)
Ittle Dew 2 – touring the world!
August 11th, 2015

Did you catch our latest trailer and website? It was announced during Gamescom last week and you can see it right here:

ittledew.com

It was super fun showing the game on the floor, and we got some pretty great interest in it =) Next up is PAX Prime in Seattle later this month where we will make a new exciting announcement and let people play it. Hope to see you there!
Progress named Peoples Choice at MIX, first prize from Indie PLUS
March 19th, 2015

After an absolutely fantastic GDC, we're happy to announce that Progress took home two awards – First we won first prize at the Indie PLUS event, awarded by a prominent jury including Adam Saltzman and Rami Ismail. And now we have been informed that the vote tally is in and, we also won People's Choice at the Indie MIX event at IGN!

To celebrate, we're launching Early Access testing for Progress – sign up fast to get to play on your iPhone or iPad! Slots are limited.

And thanks everyone who came by our (appropriated) booth at the IGF Pavillion, it was so much fun!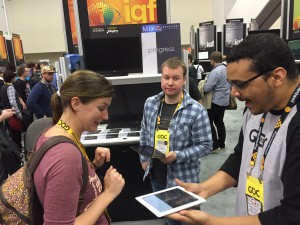 We can't wait to show Progress at even more events, see schedule here!
Announcing Progress
January 17th, 2015

We're proud to announce Progress – a new game for tablets and smartphones!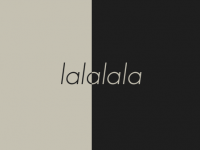 We teamed up with our friends Tim Garbos from the Copenhagen Game Collective, and Norwegian musician Martin Kvale in a Scandinavian super-team joint effort and made Progress – a puzzle game that will make you think and laugh. But mostly it'll make you look silly!
We won Pocket Gamer's Very Big Indie Pitch on the very first day we showed it publicly, and we'll continue to show it around the world during the spring and summer. Come find us at A Maze, GDC, SXSW, Social Connect, Nordic Game Jam – you name it, hopefully we'll be there!
Progress will be released in the spring of 2015. Keep an eye on our Twitter and website for more info about shows and release date!
UPDATE: Check out our 100 Faces of Progress photo album !
Princess Remedy released
December 12th, 2014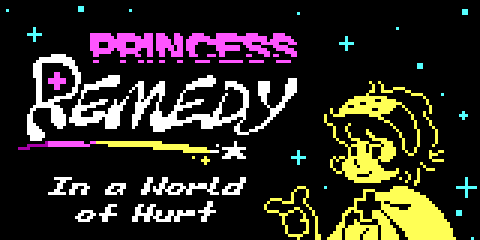 Two weeks ago, Ludosity participated in the four-day Games Against Ebola game jam. Daniel and Anton made Princess Remedy In a World of Hurt, with music by Mattias and Stefan, and Simon and Nils made Fist of Healing with more music by Mattias.
Today we're releasing Princess Remedy for free, while talking a bit about how it was made. Get the game here:


Download Princess Remedy for Windows


Daniel on the game design
In Princess Remedy, you travel around the world to heal people with various ailments. The "Healing Mode" is a single-screen action sequence where you shoot band-aids and throw a limited amount of flasks at enemies like viruses and ghosts. Most of the ideas came from looking at Anton's various concepts made before the game jam, which were expanded upon on our whiteboard on the first day of the jam.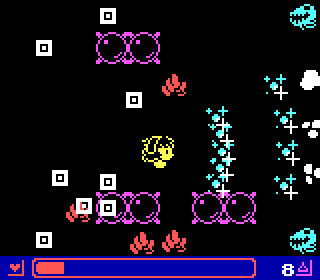 Since we had four days, I figured it should be possible to make a fairly small RPG world with plenty of characters to heal, and several different enemies. After coding the overworld and basic battle screens, I received 64 NPC sprites and 16 enemy sprites from Anton, and two sets of tiles for the overworld and towns. With only two days left, I made the overworld areas, 49 regular battles, spent about four hours on the final boss, wrote the dialogue (hence why it's so simple and rushed), and in the final hour of the jam added a save system. Since me and Simon decided to skip sleep on Saturday, I worked for about 32 hours straight, and managed to finish the game without having to cut any content from the plans. We also got a set of sweet final boss tunes from Stefan near the end.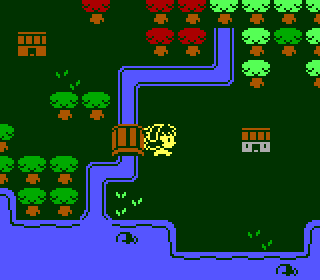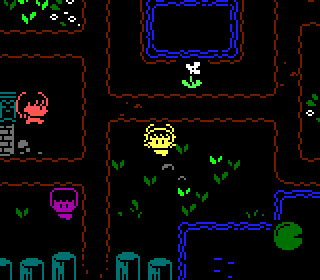 Anton on graphics
Graphics for a jam game should be quick and fun to work with. I decided on a very low resolution look with very few colors on heavy black backgrounds. To spice it up I decided I should only use 1 color per 8×8 pixel block on a sprite or a tile, and I had Daniel code the sprites "erasing" tiles below them (it looks cool! Oldey!). This isn't to emulate a specific console (although that is fun, I wasn't up for that kind of dedication in a jam timeframe) but merely because limitations like these are fun to work with and forces one to be creative and try new things. And trying new things is a key to improvement, I feel.
This simple style, combined with very clear instructions on exactly what graphics we needed and how they should be set up, allowed me to churn out all the graphics in 2 days. Which was necessary since I would be away on the weekend.
The biggest thing I had to make was the final boss. For his concept design, both me and Daniel drew simultaneously on the whiteboard, just doodling whatever we could think of. Then I simply polished that design and translated it to pixels (still adhering to the 1 color per 8×8 area was the thoughest part!).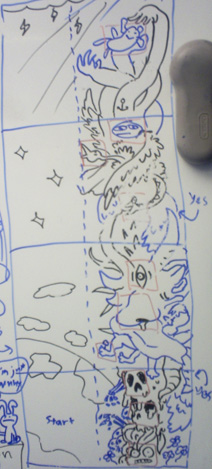 Haku on music
While the graphics are technically emulating something older than the NES I didn't want to go that far back with the music. Thus the music is made by samples from the NES and the Gameboy, but disregarding any limitations those console would have. I played around with the noise sounds and with using moody arpeggios, also, I've been very much into jazz since the Card City Nights OST, so a jazz track naturally made it in there. All in all, I'm very proud of the soundtrack.