Ittle Dew: European Wii U release, NA patch, Japan
July 3rd, 2014

Ittle Dew is now completed for the European Wii U eShop! The biggest update is localization, but we have also addressed the two biggest complaints from the NA release: stuttering during saving, and that no sound is coming from the GamePad. We have also made a number of smaller bugfixes and polish overall.

Ittle Dew Wii U EU changelog:
Localization for English, Spanish, French, German & Italian
Threaded saving – no more stuttering!
Audio on the GamePad
Bugfixes
We're currently waiting for age ratings and final approval, and expect to have Ittle Dew in the EU eShop by August – stay tuned for release date. Sadly it doesn't look like there will be a German release though – the USK rating is quite expensive and it might not even make its money back in Germany.
We also intend to patch the NA version with these changes. Apart from being improved over-all, a Spanish localization also means we can publish it in Mexico! Lastly, we're also in talks with a publisher in Japan about a Wii U release there – stay tuned for more info!
Ittle Dew for tablets
October 22nd, 2013

We are basically finished with Ittle Dew for tablets, and we're just about to submit and send out review copies.

I wanted to show you how it looks (and works). When you start the game for the first time you're prompted to choose between two settings, gestures and on-screen buttons.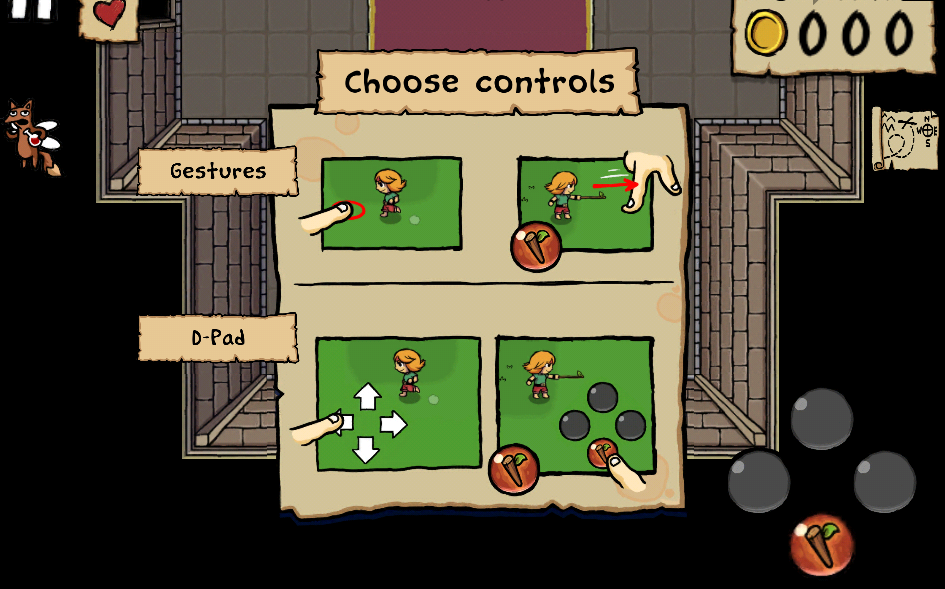 Playing with gestures is super comfortable since you can play with just one finger. Hold to go there, and use one of the four gestures to use the items. As you unlock the items, Tippsie will show you how to perform the action.
I know there's a lot of players out there that don't like on-screen controls, but actually they are my personal preference. We've iterated and tweaked the feel many times until we got them as good as we wanted them.
It's easy to change controls at any time too, so try them both! We hope to have Ittle Dew out on tablets before the end of this month.
Ittle Dew Steam availability
July 24th, 2013

UPDATE: Mails with keys have now gone out to all FastSpring users!

So, Ittle Dew is out on Steam right now!

For those of you who bought it on our webpage before July 12 (via fastSpring) we are now working with them to have keys sent out automatically through their system. Worst case scenario, I'll be doing alot of manual emails in the coming days, but it will come =)

For those of you who bough it after July 12, using HumbleStore, you can find the key from your original pre-order download page. If you lost it, use this: https://www.humblebundle.com/store/keyresender
Ittle Dew available now!
July 5th, 2013

UPDATE: Now also on Ouya!

Head on over to ittledew.com to buy Ittle Dew right now!

It's available for Windows via our webstore, and everyone that buys now will also get it on Steam when it launches there by the on of July. Mac and Linux will also be added to your purchase as they become available.

Enjoy, and post your best times to our twitter!
Ittle Dew launch dates
July 2nd, 2013

We have previously listed Ittle Dew to come out.. well, yesterday. So sorry to keep you guys waiting, but we've had some slight delays.

Here is the new release schedule – including our first official announcement of a Steam version!

July 5th – Ouya and Windows

Mid July – Mac

End of July – Steam

Fall to Winter – Linux, WiiU, iPad, Android tablets
PR: Ittle Dew release date, playable for everyone @ E3 2013
June 7th, 2013

Here's a brand new gameplay trailer!

Ludosity can today announce that Ittle Dew will be released on July 1st, 2013. It will also be showcased  at E3 this year to gamers and journalists alike. Unlike most games showed at E3, Ittle Dew will be displayed just outside the convention center in Ouya's showcase area, for everyone to see and play.

"I really hope the public will pick up on that and come and play some new cool games at this E3, even if they don't have access to the indoors event," says Joel Nyström of Ludosity, who will be on-site. "And it's so exciting to finally be able to show our game to the world. We've been working so hard on this for so long it's crazy."

Ittle Dew is a retro-fresh, puzzly adventure game coming to PC and consoles this summer. Lead heroine Ittle and her sidekick Tippsie crash their boat onto an unsuspecting island and immediately set about to explore and loot the place. Gameplay is snappy and boiled down to the essentials. Filled with secrets, puzzles and shortcuts, Ittle Dew is designed for replayability and speedrunning.

More info, trailers and screenshots here: www.ittledew.com

Ludosity is a Swedish game studio that has previously developed Magicka –Wizards of the Square Tablet (tablets), Bob Came In Pieces (Steam) and Alien Chaos and Boulder Dash XL (Nintendo 3DS) plus a host of smaller titles across XBLA, web and mobile. More info here: www.ludosity.com

Contact details
Joel Nyström
@reallyjoel
joel@ludosity.com
+46704270981
New Ittle Dew trailer & website
June 4th, 2013
Porting Ittle Dew to multiple platforms
April 1st, 2012

Ittle Dew is progressing nicely, and we have it up and running on the majority of platforms supported by Unity. That's Windows, Mac, iOS, Android, and now also PS3! It's slightly awesome to see your own game on a PS3 console, a bit like magic really.

But we weren't really satisfied with only those platforms, one is sorely missing. You can't really call a launch 'multi-platform' unless it's on the ZX Spectrum! So without further ado, here's a snapshot from the game in its full glory. 16 colors, 8*8 tiles, no transparency – the way we all really like it. Stay tuned for a release date.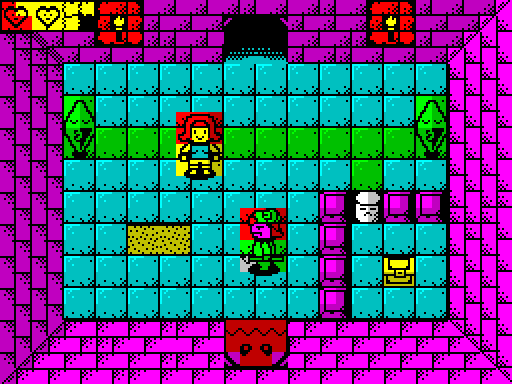 Ittle Dew – Trailer 3!
January 25th, 2012
Ittle Dew – New Gameplay Trailer
October 14th, 2011

Showing off some pretty lighting and some new gameplay mechanics. Hope you like it!

Ittle Dew – Epicsode 1 will be released for Christmas 2011!