The music in Ittle Dew was generally positively received, but didn't really stand out. We did have a pretty cool system for fading between different instrumentations of the same theme on the overworld, but that's nothing new – I first remember hearing that in Diddy Kong Racing on the Nintendo 64.
Ittle Dew was Mattias' first score – normally he's on coding duties – but I think he did a very good job, especially with so little experience. For Card City Nights he really came into his own with a score much closer to his (and mine) tastes, and a strong theme that went through the entire game. All locations have a jazz song as base, and the combat in each zone is a hiphop remix of respective jazz song. This came out great and we got loads of praise for the CCN soundtrack. It's actually selling a little bit on it's own in iTunes and Spotify =)
So for Ittle Dew 2 we want to step it up again and do something new and fresh. And not just find a fresh genre, but to do music in a new way. Reconsider the use of music in a game at a more basic level.
This a first, very rough prototype of what we initially came up with. We simply put the musical elements on objects in the world, and let them play only as they enter the current view of the screen.
[unity src="2545″]
Steer with WASD. Start by going up, and then go left until you get to the blue area.
The squares represent different elements of a spooky forest; Trees, Frogs, Stars, Flowers and Plants. See the screenshot below for an idea of what it could look like ingame: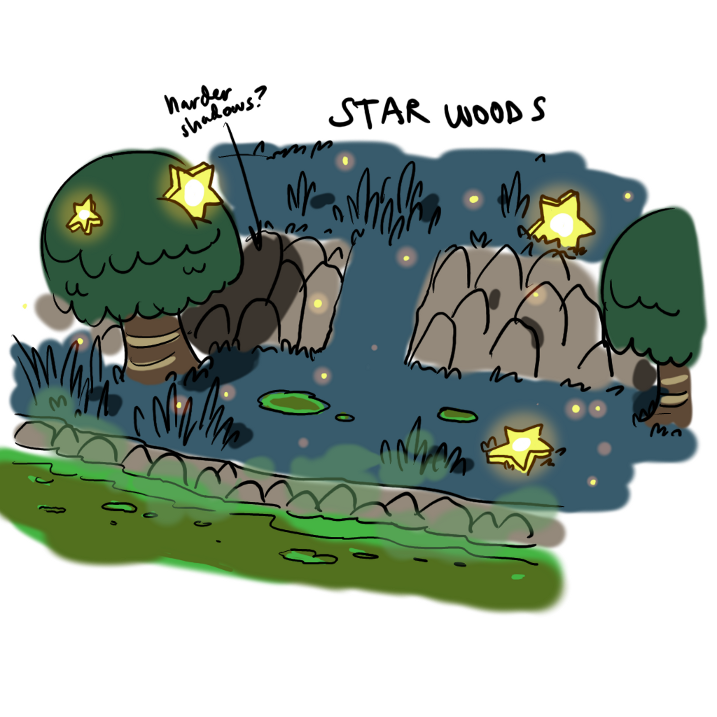 We didn't spend more than a couple of hours on this prototype, but hopefully it'll come out great in the actual game. As the different elements play they should probably animate a little. We'll also try putting the music on enemies instead of level elements, or both. Lot's of experimentation left to do!
Filed in Developer Blog • Ittle Dew 2 • News