Ludosity have just published their second game from Regnslöja – Healthy Weapon!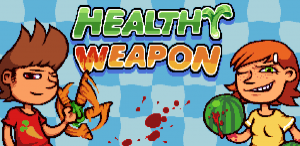 The first proper fighting game on Android that is truly made for touchscreens!
Challenge anyone sitting next to you to a brutal fruit smackdown – Or just play single player in one of four modes: Arcade, Practice, Survival and the frustrating Unfair.
Controls with touch devices in mind
2 player versus on the same device
6 charming main characters, 3 more unlockable
Even more characters in a special mode…
Wield variety of dangerous fruits and vegetables
Check it out here: https://play.google.com/store/apps/details?id=com.regnsloja.healthyweapon
[youtube=http://www.youtube.com/watch?v=gEte88RA54o]
Filed in News