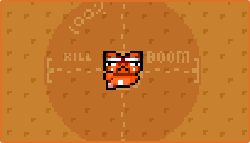 Exploding onto the scene is Kamikaze Kitten, our latest prototype. As usual it was developed by Juha, but concepted by Nils.
This is what Nils has to say: "The idea was born while pondering alternative ways of disposing enemies in action games. A cat was chosen to be the protagonist because of their many lives to sacrifice. Also for their cuteness adding to the absurdity of constantly blowing yourself up."
So there you have it kids. Head on over and give it a whirl !
Filed in News