It's about time we start talking about our next project, Mama & Son: Clean House!
Really Shooter and his mother Poor Mama are running a cleaning service business, with Really taking commando jobs on the side. One day, aliens invade (!) and Really doesn't hesitate for one second, he heads over to their mother ship and begins to mow down the invading forces with his trusty machine-gun. And of course, as usual it is up to Mama to clean up the mess after him.
Clean House features dynamic two-player gameplay where Really takes care of business while protecting his mother, and Mama cleans up the mess and support her son with ammo. You can play with a friend or with AI, (or play both with one controller in hardcore mode). There's Story Mode and Survival Mode with online highscore, all for less than a can of soda on Xbox Live Indie Games!
Me and Daniel started talking about this idea way back when we chose our bachelor's project in uni, but we didn't realize the idea until NoMoreSweden 2009, where it pretty much cleaned house (even though it was called poor cleaning lady then..) Since it turned out so fun and unique, we've now decided to bring it to Xbox in full HD!
It's coming along really well – in fact it's almost done! It's currently in playtest phase and will go into certification early next week.
In the mean time, check out these wallpapers our lovely artist Stefan has put together!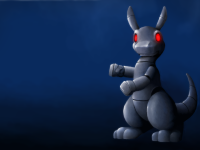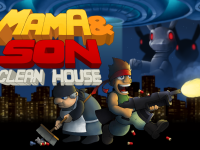 Filed in Developer Blog • Games • Mama & Son: Clean House • News